Units 1-7 & Start-Up Guide of Playing Preschool
**THIS PRODUCT LISTING IS FOR UNITS 1-7 OF THE PLAYING PRESCHOOL PROGRAM PLUS THE 20+ PAGE START UP GUIDE. **THIS IS NOT A PHYSICAL PRODUCT. THIS IS A DOWNLOADABLE PRODUCT.**
Welcome to Playing Preschool! From the creator of Busy Toddler, this is a new homeschool preschool curriculum. Fast, easy, and affordable.
The Playing Preschool program is a 19 unit curriculum designed to introduce children to a variety of learning concepts in a fun and exciting way. This program is play-based, hands-on, and designed for at home use. This listing is for purchasing Playing Preschool Units 1-7 only, along with the Start Up Guide.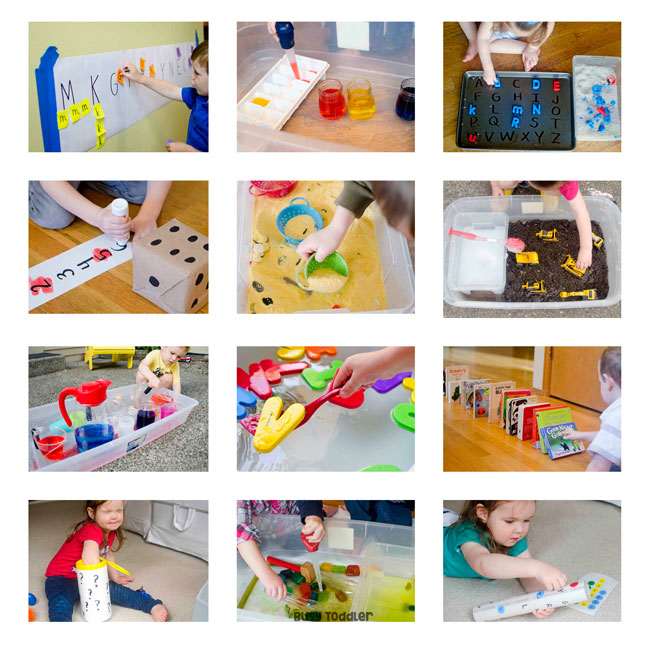 Included in this bundle:
The 20+ page Start-Up Guide for launching the Playing Preschool program.
Unit 1: Apples
Unit 2: Colors
Unit 3: Nursery Rhymes
Unit 4: Clothing
Unit 5: Food
Unit 6: The Five Senses
Unit 7: Teddy Bears
Here's a look at the skills your child will work with each week:
Sorting
Predicting
Alphabet Knowledge
Recall and Retell
Shapes
Measurement
Number Sense
But that's not all! This program is full of science activities, fine motor skill, gross motor activities, art and sensory based activities.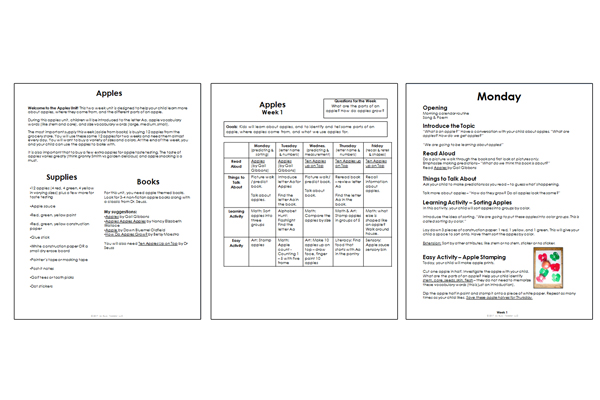 How is each day structured?
A week is 5 days of learning activities. Here's what each day looks like:
Start the day: calendar, song/poem, and an introduction to the topic
A read aloud hand picked to fit the theme
"Things to Talk About": a conversation to have with your child about the book/theme
A learning activity – an activity usually done by parent AND child to develop a targeted skill and fits with the unit theme
An easy activity – a quick & easy themed activity that the child can typically do independently

How will you know what to teach?
I created an amazing 20+ page start up document so I can show you the ins and outs of this program. In the start-up guide, I'll share with you my tips and tricks for teaching Playing Preschool, because I know what it's like trying to learn a new curriculum.
Each week has a unit overview so you'll get a snapshot of how the week will look.
Each day has a detailed lesson plan so you'll have clear directions for how to teach your child.
Need to see more about Playing Preschool?
Check out this post on Playing Preschool or email [email protected]. You can also check out this free sneak peek of Unit 1: Apples to see the flow and set up of this amazing product!
This is a digital product and is non-refundable.