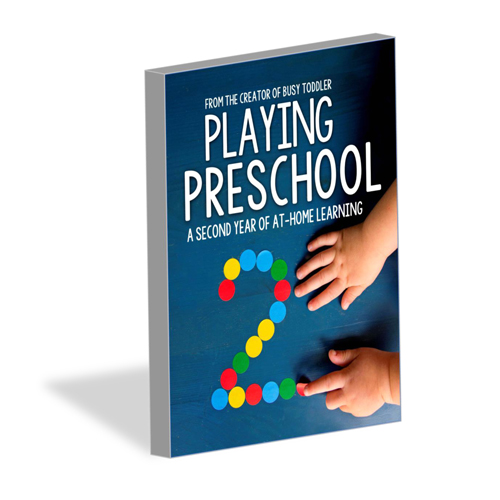 Welcome to Playing Preschool Year 2!

**THIS PRODUCT LISTING IS FOR PLAYING PRESCHOOL YEAR 2 PLUS THE INTRODUCTION TO LEARNING GUIDE ***THIS IS NOT A PHYSICAL PRODUCT. THIS IS A DOWNLOADABLE PRODUCT. YOU WILL RECEIVE A PDF ***YOU ARE PERMITTED TO PRINT ONE COPY OF PLAYING PRESCHOOL YEAR 2 FOR PERSONAL USE, NO REDISTRIBUTION***PRINTING IN BLACK AND WHITE, DOUBLE SIDED IS HIGHLY RECOMMENDED FOR COST SAVINGS**
Are you ready for a second year of learning?

Playing Preschool Year 2 is designed for use after Playing Preschool Year 1. Think of the programs like a college course: you take Biology 101 and then Biology 201. The Year 2 program assumes the parent and child have completed the full Playing Preschool Year 1 course. Do not skip Year 1. READ MORE ABOUT WHY IN THE FAQ.

The second year of at-home learning starts right where we ended Playing Preschool Year 1. Just like Year 1, the skills in Year 2 continue to grow and build, spiral and increase. The learning in Year 2 is amazing.
Playing Preschool Year 2 is again a 190-day program, broken apart into 19 thematic units. The structure and outline of the program are the same as Year 1, so you already know how to teach these lessons. But these aren't just any lessons, because these aren't just any topics.
These topics are designed to broaden your child's horizons, to open them up to concepts they may not have considered yet. As we head our children down the path of learning, our job is to introduce them to as much as we can. It's all about exposure.
Playing Preschool Year 2 will expose your child to so much!
In Playing Preschool Year 2, the topics and units are unique from other programs. The topic list is vibrant – your child's background knowledge on different subjects will build and grow over the next school year.
Here's a look at all 19 units in the 38-week program:
Can you even image how much knowledge your child will have going into school someday? Think how confident they will be in class because of the incredible learning foundation we have given them! The units in Year 2 are amazing – high level, abstract learning that our kids are ready for.
These units support so many key skills for our children to develop as they inch ever-closer to their school days.
Just like in Year 1, Playing Preschool Year 2 has a very clear scope and sequence. The program builds and the complexity of lessons grows as your child develops. You'll notice right away that Playing Preschool Year 2 starts where Year 1 finished. We keep building on the foundation we gave them in Year 1.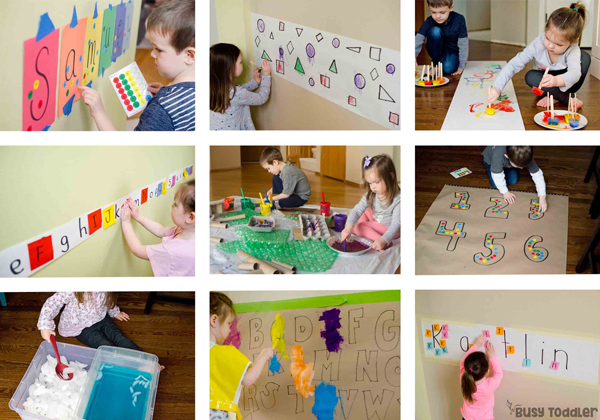 Here's a glance at the skills your child will work on in Playing Preschool Year 2:
Reading comprehension skills
Math skills
Number sense
Alphabet knowledge
School skills (cutting, gluing, tracing, folding, etc.)
"But my child knows their alphabet and numbers already, is this program right for them?"
I hear you and that's great! Alphabet knowledge continues to grow through elementary school and number sense skills develop throughout their life (high school algebra is still using number sense!).
What we are working on in both Playing Preschool Years 1 & 2 is moving beyond memorizing.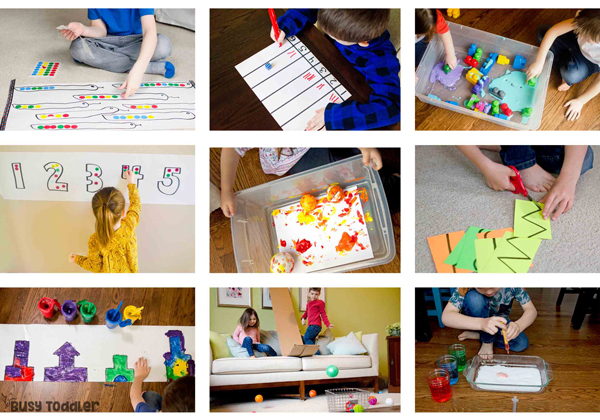 We want them to understand letters as a building block and tool for reading, to see letters in the world around them and to form a base for when they are ready to read. We want our kids to really know their letters. In Year 2, there is a large emphasis on building Phonemic Awareness, which is a critical skill that has a direct impact on a child's future reading success.
There's so much more to numbers than counting! It's understanding value, joining numbers together, comparing numbers, and recognizing numbers in various arrangements. We dig deep with numbers in Playing Preschool Year 2. Throughout the program, children will use numbers, create with them, explore their purpose, and expand their understanding of how numbers interact in our world. THIS IS MORE THAN HOW HIGH THEY CAN COUNT.
ALWAYS REMEMBER: repetition and practice are a good thing. It's important. LeBron James still goes to practice each day and takes simple shots. Another way to think about learning? When kids learn to ride a two-wheeled bike, we don't put the bike away and say," Good job mastering that skill, now let's learn something else." Can you even imagine? That's what learning is like in these early years. We must keep practicing!

These skills are not all they'll learn!
Our goal is to teach the "whole child" not just part of them. We also want to honor the many different ways children learn by offering multiple ways to interact and play with a topic. The more ways a child can manipulate and work with a concept, the better.
Each unit has a variety of lessons using:
Fine motor skills
Gross motor skills
Art
Science or STEM
Sensory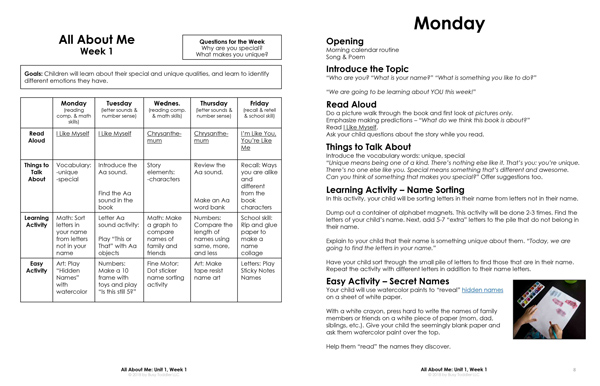 But that's not our only goal.
Of course, we want our children to know and master, understand and share lots of information. We love when our kids can count and say the ABCs because it's tangible and quantifiable and it shows they are learning BUT….
IT DOESN'T SHOW EVERYTHING.
AND IT DOESN'T SHOW THE MOST IMPORTANT THINGS.
We want curious children, children who love learning, children who wonder, and question, and above all else: children who think.
We want our children to be well-rounded learners. We want our children to be engaged and excited learners. They don't become these kinds of learners by sitting and listening, memorizing and test taking.
Playing Preschool Year 2 gives your child a chance to think – that's why I made it so open-ended and it's why I didn't use any worksheets. Worksheets are often one-dimensional, and we are not raising one-dimensional kids.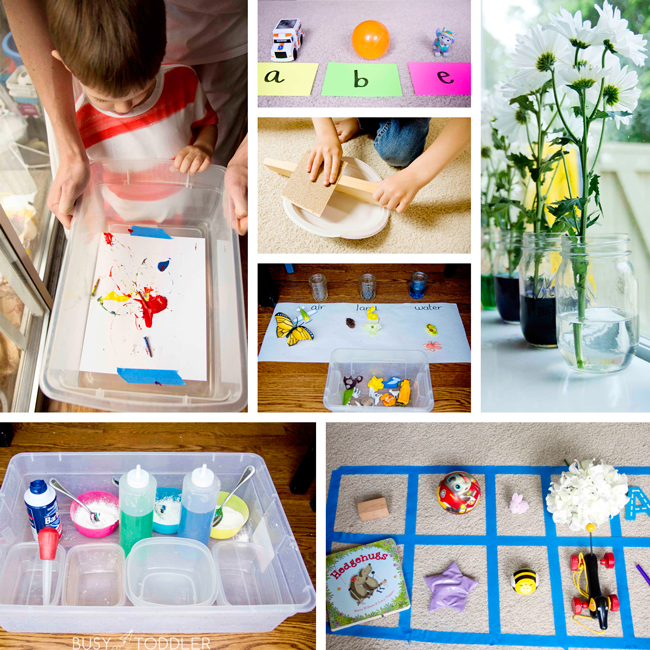 We want our kids to explore topics.
We want our kids to engage with topics in a hands-on way.
We want our kids to discover, to take risks, to make predictions, to test theories, to learn by doing.
And we do that with Playing Preschool in a fun, easy, play-based way.
No worksheets.
No lengthy or strange supply lists (most things on our supply list are household items)
No time-consuming lessons – just like Year 1, Playing Preschool Year 2 only takes about 45 minutes per day.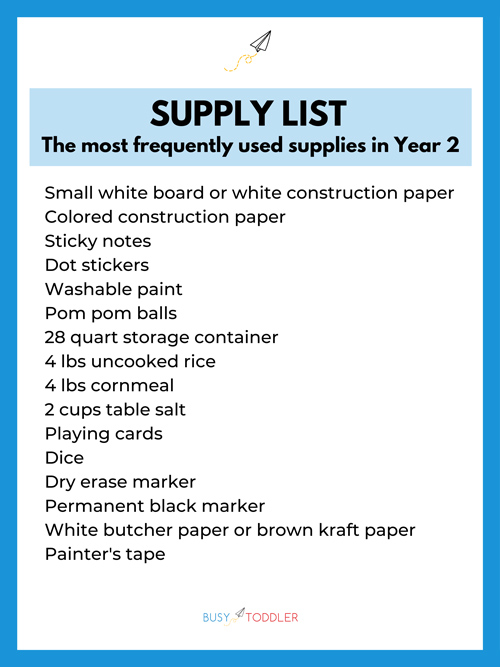 The Introduction to Learning Guide
Playing Preschool Year 2 comes with a 20+ page Introduction to Learning Guide that includes a brief explanation of how to teach the program (this was covered in full in the Year 1 Start-Up Guide) and my take-away messages on how to teach kids the most important skill (to think!) and the truth about school readiness.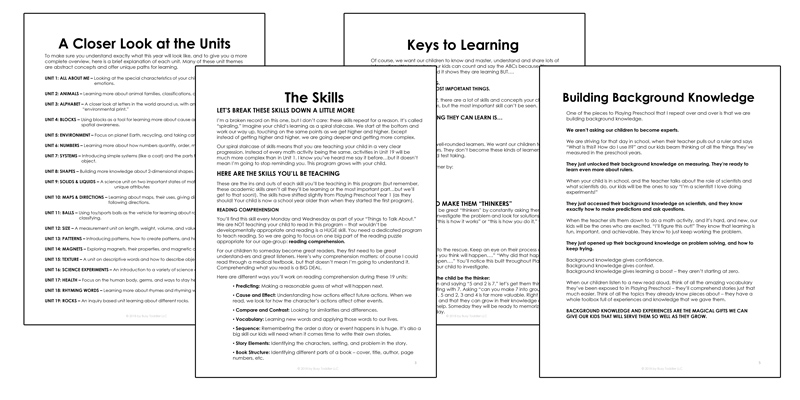 In the Introduction to Learning Guide are my thoughts on teaching the "whole child" and getting our kids ready for a lifetime of learning, with information on building background knowledge, why Playing Preschool doesn't teach to mastery, and key pieces of learning. The "School Readiness" section particularly focuses on what children need to know before entering a classroom (and hint: none of the skills are academic).
I am so excited for you to begin Playing Preschool Year 2. You remember all the fun from Year 1…let's get ready for a repeat performance.
Looking for more information on Playing Preschool?
Check out this post on Playing Preschool or email [email protected]
**This is a digital product and is non-refundable.** You will receive a PDF at checkout.