SENSORY ACTIVITIES
SENSORY PLAY IS SO IMPORTANT FOR ALL KIDS – ALL AGES AND ABILITY LEVELS. START YOUR JOURNEY HERE.
Looking for sensory activities for toddlers (and preschoolers, and babies, and big kids, too)?
This is the page for you.
Sensory activities are amazing. They are a quick and easy way for kids to learn so much – the learning that happens during a sensory bin is truly unbelievable.
When a child is playing with a sensory activity, they are:
Working on independent play skills
Math skills (capacity)
Imaginary play / dramatic play
Life skills (pouring, scooping, transferring)
Fine motor skills
Tactile learning
Developing self-control
RELATED: WHY IS SENSORY PLAY SO IMPORTANT?
Read about the 6 skills kids learn during sensory activities.
I know sensory activities can look intimidating…and messy
But they don't have to be!
Kids can learn to play without making a giant mess, inside the rules of the activity, and keeping the sensory bin area (relatively) clean.
It just take some good ol' fashioned firm, clear, and consistent boundaries.
Set yourself up for success and set your child up for success – a little pre-planning and extra thinking before starting a bin is paramount to it's success.
RELATED: HOW DO YOU TEACH TODDLERS TO KEEP BINS TIDY?
It's not as hard as you'd think!
It's time to start your sensory bin journey!
Remember: sensory bins don't have to be messy.
Sensory bins don't have to cost an arm and a leg to set up.
Sensory bins don't need to be anything fancy.
It's all about providing your child with a bin that sparks their imagination and captures their attention. Have fun with it!
Ready to begin sensory play? START HERE!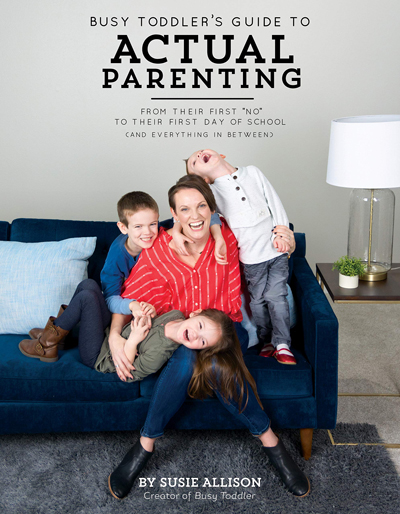 Busy Toddler's Guide To Actual Parenting
From Their First "No"
to Their First Day of School
(and Everything In Between)
You don't need to feel alone in parenting. You don't need to feel like you're failing. And you definitely don't need another parenting book filled with theoretical advice about theoretical children. You need actual parenting help from an actual parent. It's time to feel confident in your parenting.
THE BEST SENSORY ACTIVITIES FOR TODDLERS (AND ALL KIDS)