Welcome to Playing Preschool Year 1!
**THIS PRODUCT LISTING IS FOR THE PLAYING PRESCHOOL YEAR 1 CURRICULUM PLUS 20+ PAGE START UP GUIDE. ***THIS IS NOT A PHYSICAL PRODUCT. THIS IS A DOWNLOADABLE PRODUCT. YOU WILL RECEIVE .PDF***YOU ARE PERMITTED TO PRINT ONE COPY OF PLAYING PRESCHOOL YEAR 1 FOR PERSONAL USE, NO REDISTRIBUTION***PRINTING IN BLACK AND WHITE IS HIGHLY RECOMMENDED FOR COST SAVINGS**
**QUESTIONS? Check out the Playing Preschool FAQ page OR email [email protected].

Are you ready for 190 days of learning?
From the creator of Busy Toddler, this is a new kind of homeschool preschool curriculum. Fast, easy, and affordable.
Playing Preschool Year 1 is a 19 unit curriculum designed to introduce children to a variety of learning concepts in a fun and exciting way. This program is play-based, hands-on, and designed for at home use. Playing Preschool is "evergreen" so you can start this program at any point in the year, in any hemisphere of the world!
This program is not time consuming. Each day takes about 45 minutes.
This program is not sit and do work. These activities are all about moving and playing.
This program is not going to cost you an arm and a leg to set up. Most supplies are already found in your house.
For even more detailed information about the Playing Preschool Program, check out this giant post.
YOU CAN ALSO CHECK OUT THE PLAYING PRESCHOOL FAQ PAGE FOR MORE ANSWERS.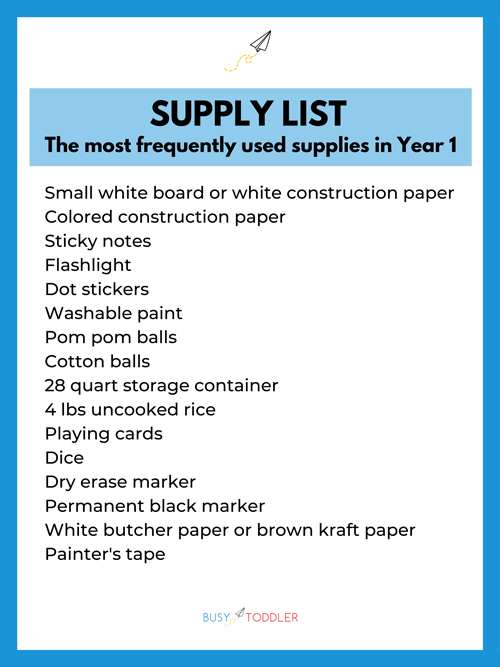 What age is Playing Preschool Year 1 designed for?
Playing Preschool Year 1 is designed for children ages 2.5 – 5 years old. The program is incredibly open-ended and full of opportunities to adjust the level of activities to meet the needs of the specific child. My children were 2.5 and 4 year old when I wrote this program and they both learned so much.
I was very deliberate in designing a program that can be used with multiple ages of children. You'll even find my "extension" notes throughout the program with my ideas for how to extend an activity to meet different developmental needs.
The beauty of an open-ended program is its ability to meet the child where the child is at.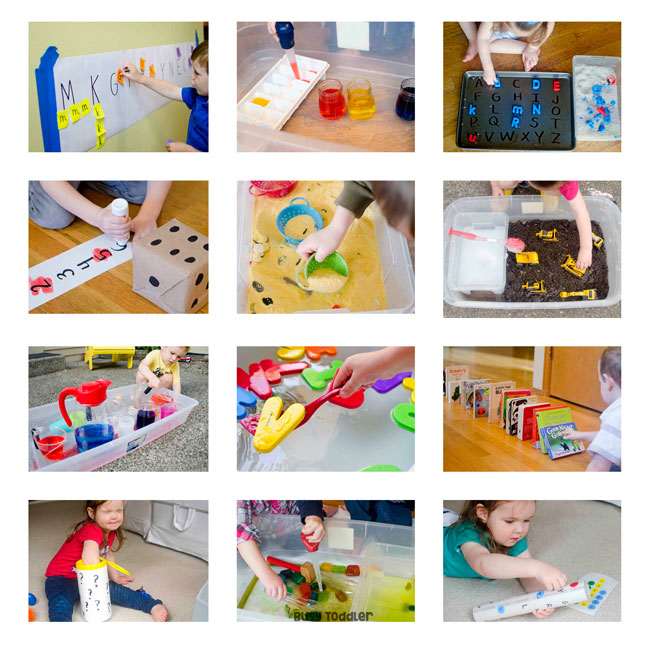 What is Playing Preschool?

It's a homeschool preschool curriculum built on simple, engaging, and active play-based learning. Each unit in Year 1 is two weeks long so it's a 330+ page program with 190 days of activities.  And that's what this is: educational activities, full of learning but without the pressure, length, or expense of traditional school.
Plus, there's a clear sequence and progression of skills in this program so as children grow and develop, so do the activities. You'll notice quickly that the activities in Unit 19 are a lot more challenging than in Unit 1.
Here's a look at the skills your child will work with each week:
Sorting
Predicting
Alphabet Knowledge
Recall and Retell
Shapes
Measurement
Number Sense
But that's not all! This program is full of science activities, fine motor skill, gross motor activities, art and sensory based activities.
This program is so much more than just straight academic learning. It's about building background knowledge of key skills and information that will help your child in their "school years." The 19 topics introduce your child to so many important and new concepts, ones they may not have considered yet.
Don't forget about my giant blog post – the one that goes into way more detail. Find it here.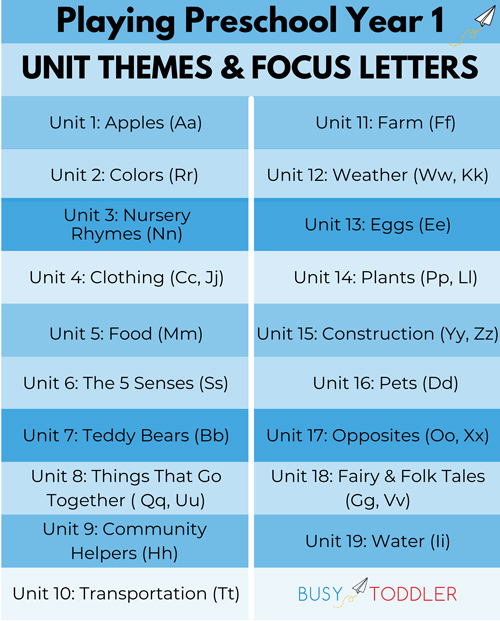 "But my child knows their alphabet and numbers already."
I hear you and that's great!
The goal with Playing Preschool is to move kids away from memorized learning. We want them to understand letters as a building block and tool for reading, to see letters in the world around them, and to form a base for when they are ready to read. We want our kids to really know their letters. Not just have some symbols memorized.
Here, we are going deeper and moving away from surface level learning. Many of the alphabet activities in Playing Preschool are ones I used as a first grade teacher – because even seven year olds who are fluent readers still need these kinds of alphabet lessons.
What we are working on in Playing Preschool is moving beyond basic low level skills like listing, repeating, and stating facts. It's fairly easy to memorize the order of numbers or letters in the alphabet (it's actually similar to identifying animals – you are learning the name of an object and the sound it makes: "That's a cow. It says 'moo.'" "That's an Aa. It says /aaa/.")… which is why, we want to go so much deeper with these skills.
What about numbers? Same thing. Kids need to learn more than the order of some words (that's all counting is). In Playing Preschool, we work on understanding value, comparing numbers, and using numbers to measure and discuss data. We order, label, discuss, and dissect numbers. This is so much more than counting.
Remember: repetition and practice are a good thing. It's important. Consider LeBron James: he still goes to practice every day and takes simple shots. Why? Because he knows that repetition and practice are important.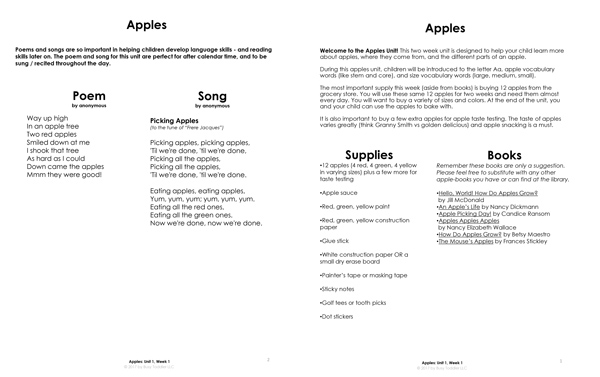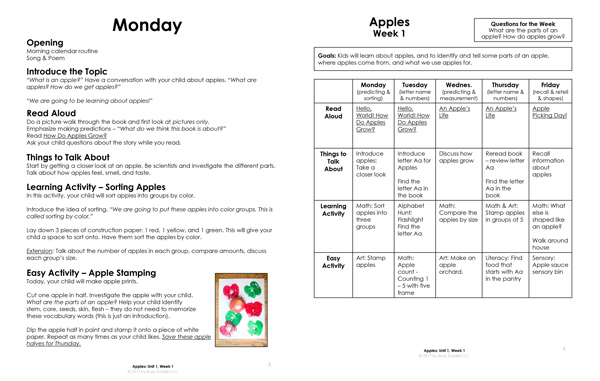 How is each day structured?
A week is 5 days of learning activities. Here's what each day looks like:
Start the day: calendar, song/poem, and an introduction to the topic
A read aloud hand picked to fit the theme
"Things to Talk About": a conversation to have with your child about the book/theme
A learning activity – an activity usually done by parent AND child to develop a targeted skill and fits with the unit theme
An easy activity – a quick & easy themed activity that the child can typically do independently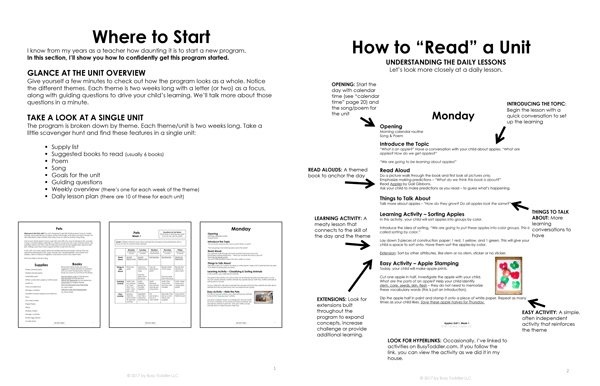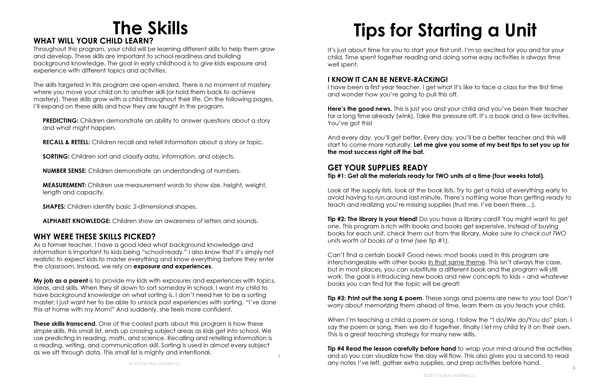 How will you know what to teach?
First of all, I created an amazing 20+ page document to show you the ins and outs of this program. In the Start-Up Guide, I'll share with you my tips and tricks for teaching Playing Preschool, because I know what it's like trying to learn a new curriculum. I want to give you all my teaching knowledge to help you (and your child) be successful.
Each week has a unit overview so you'll get a snapshot of how the week will look.
Each day has a detailed lesson plan so you'll have clear directions for how to teach your child.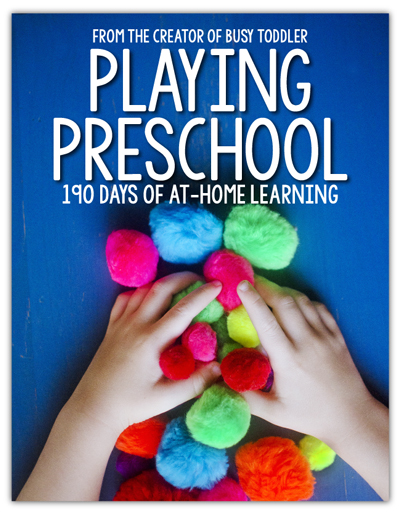 Need to see more about this homeschool preschool curriculum?
Don't forget to check out the Playing Preschool FAQ page.
Check out this post on Playing Preschool or email [email protected] You can also read a free sneak peek of Year 1, Unit 1: Apples to see the flow and set up of this amazing product!
This is a digital product and is non-refundable. You will receive a .PDF at checkout.