INCLUDED IN THIS PRODUCT
---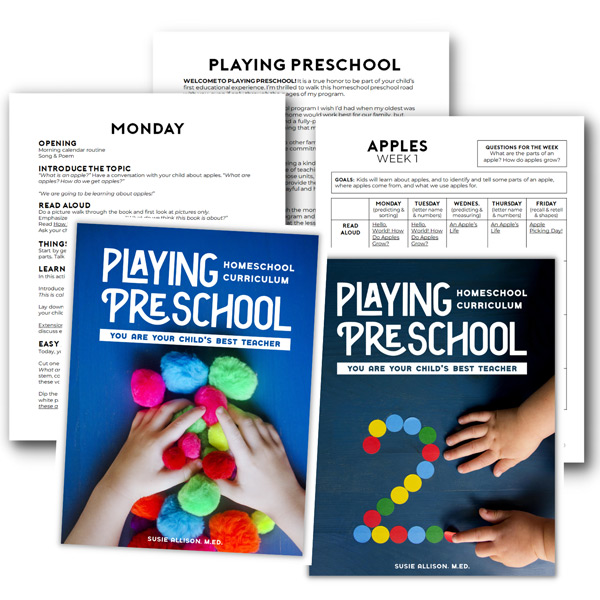 Welcome to Playing Preschool!
This is not a physical product. This is a non-refundable digital product. You will receive one emailed copy of Playing Preschool at check out (delivered as a PDF).
YOU ARE PERMITTED TO PRINT ONE COPY OF PLAYING PRESCHOOL YEAR 1 AND PLAYING PRESCHOOL YEAR 2 FOR PERSONAL USE, NO REDISTRIBUTION.
QUESTIONS? Check out the Playing Preschool FAQ page or email [email protected].
What is Playing Preschool?
Meet Playing Preschool: the best homeschool digital preschool curriculum that will change the way you think about early childhood education. Playing Preschool is geared towards children ages 2.5 to 5 years old.
This is preschool made easy: sequenced, hands-on activities in a simple daily lesson plan. Playing Preschool combines reading, math, science, and art into a curriculum that's as fun and entertaining as it is educational.
Even better? Playing Preschool comes without the pressure, commitment, or financial burden of traditional preschool.
Playing Preschool BUNDLE PACK includes:
Playing Preschool Year 1 (300+ pages)
Playing Preschool Year 2 (300+ pages)
380 detailed, daily lessons plans (5 lessons per week)
38 thematic units (19 per year)
600+ pages (emailed as a PDF)
Weekly overview
Bi-weekly supply lists and suggested book lists
20+ page Start-Up Guide to implement Playing Preschool successfully
20+ page Introduction to Learning filled with education insights
How does Playing Preschool work? Learn more on the Meet Playing Preschool page.
Need to see more about this homeschool preschool curriculum?
Don't forget to check out the Playing Preschool FAQ page, meet the author Susie Allison, or read a free sneak peek of Year 1, Unit 1: Apples to see the flow and set up of Playing Preschool.
This is a digital product and is non-refundable. You will receive a .PDF at checkout.