INCLUDED IN THIS PRODUCT
---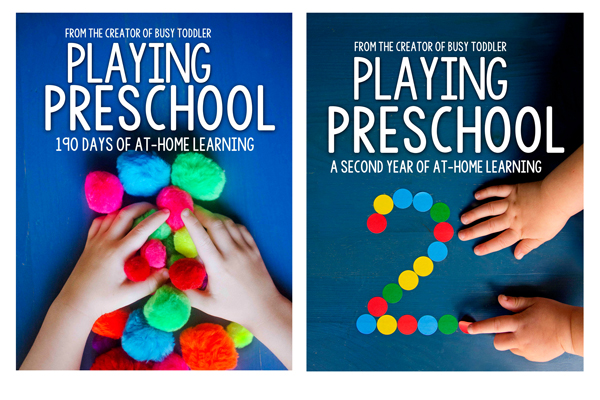 Welcome to Playing Preschool!
**THIS PRODUCT LISTING IS FOR THE PLAYING PRESCHOOL YEAR 1 & PLAYING PRESCHOOL YEAR 2 EBOOKS, ALONG WITH THE START-UP GUIDE AND INTRODUCTION TO LEARNING GUIDE ***THIS IS NOT A PHYSICAL PRODUCT. THIS IS A DOWNLOADABLE PRODUCT. YOU WILL RECEIVE PDF FILES***YOU ARE PERMITTED TO PRINT ONE COPY OF EACH PLAYING PRESCHOOL PROGRAM FOR PERSONAL USE, NO REDISTRIBUTION***PRINTING IN BLACK AND WHITE IS HIGHLY RECOMMENDED FOR COST SAVINGS**
**QUESTIONS? Check out the Playing Preschool FAQ page or email [email protected].**

Are your ready for two years of at-home learning?
Wouldn't it be amazing if you had a blueprint for what to do with your child?
Read them this.
Teach them this.
Do this with them.

Well, I sure needed it…
So I created the Playing Preschool Program.
It answers so many questions my parenting brain is always asking: "What are we going to do today?" "What do I need to teach them?" "What should they be learning?"
Read the full details about Playing Preschool here in this giant post. It has all the answers you'll need.
THERE'S ALSO AN FAQ PAGE YOU CAN VISIT!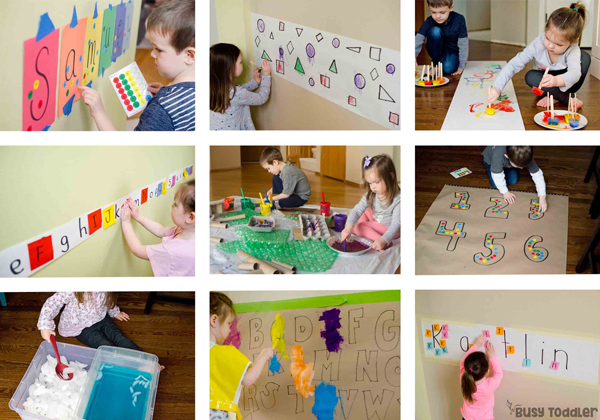 What is Playing Preschool?
Playing Preschool is a totally hands-on, completely play-based approach to at-home early childhood education. This program puts you, the parent or caregiver, in the driver's seat of your child's education.
This is NOT a sit and listen type program: your child is moving, active, engaged, and exploring the whole time.
This is NOT a time consuming program: most days will take you 45 minutes to 1 hour.
This is NOT an expensive program: buying the program in this bundle costs less than $1 a week and the supply list is things you probably already have around your house.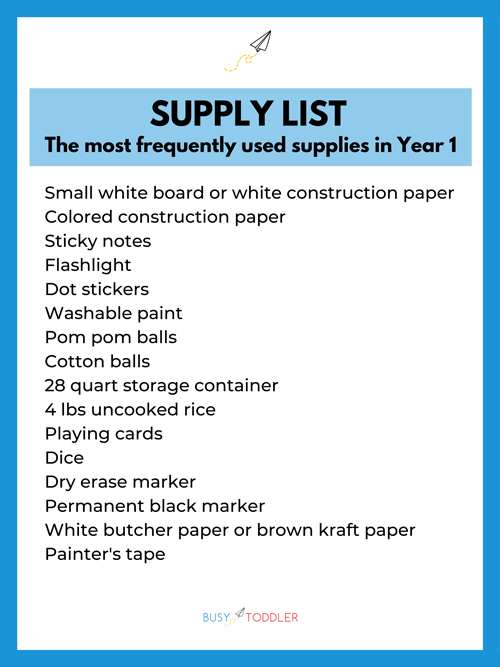 What age group is this for?
Playing Preschool Year 1 is designed to begin when your child is between the ages of 2.5 – 5 years old. The programs are both incredibly open-ended and designed to meet the wide needs and developmental differences of children.
I wrote Year 1 when my kids were 2.5 and 4 years old. Both kids LOVED the lessons and learned so much. Best of all, the program met both their needs. That's the magic of open-ended learning: it meets the child where the child is at.

Year 2 is designed specifically for children who have completed the full Year 1 program. Once your child has done that, they are ready for Year 2. Year 1 is the foundation for Year 2, and Year 2 needs the meat from Year 1 to make sense. They go together. Learn more about why Year 1 is so important HERE.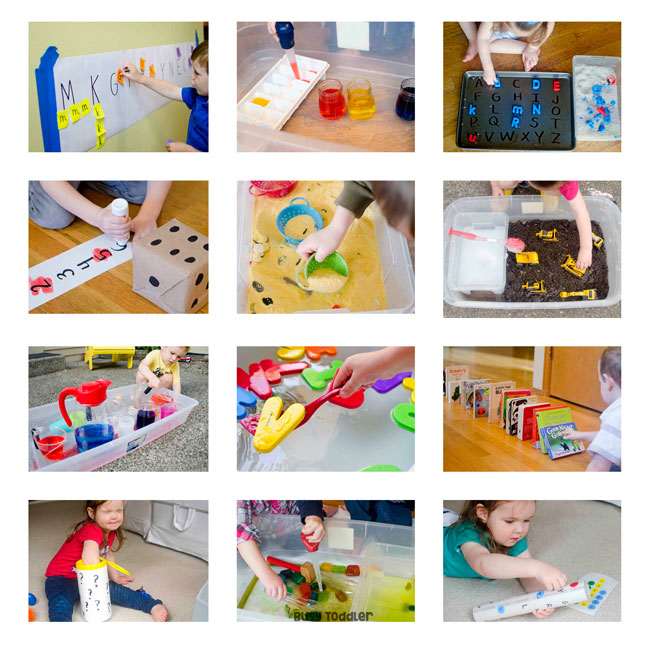 What will my child learn?
Each year is broken into 19 units, a unit is 2-weeks long. The programs each span 190 days, aka a traditional school year, but without the pressure, commitment, or financial burden of traditional preschool.
What's unique about Playing Preschool from other online curriculum is the clear sequence and progression of skills. As children grow and develop, so do the activities. You'll notice quickly that the activities in Unit 19 are a lot more challenging than in Unit 1.
Here's a look at the skills your child will work with each week in Playing Preschool 1:
Sorting
Predicting
Alphabet Knowledge
Recall and Retell
Shapes
Measurement
Number Sense
Here's what they'll work on in Year 2:
Reading Comprehension
Alphabet Knowledge
Math Skills
Number Sense
Recall and Retell
School Skills
REMEMBER, YOU CAN LEARN WAY MORE ABOUT THE PROGRAM IN MY MAIN BLOG POST HERE.
But that's not all! This program is full of science activities, fine motor skill, gross motor activities, art and sensory based activities. We are aiming to teach the "whole child" here!
This program is so much more than just straight academic learning. It's about building background knowledge of key skills and information that will help your child in their "school years." The topics introduce your child to so many important and new concepts, ones they may not have considered yet.
Read the full details about Playing Preschool here in this giant post.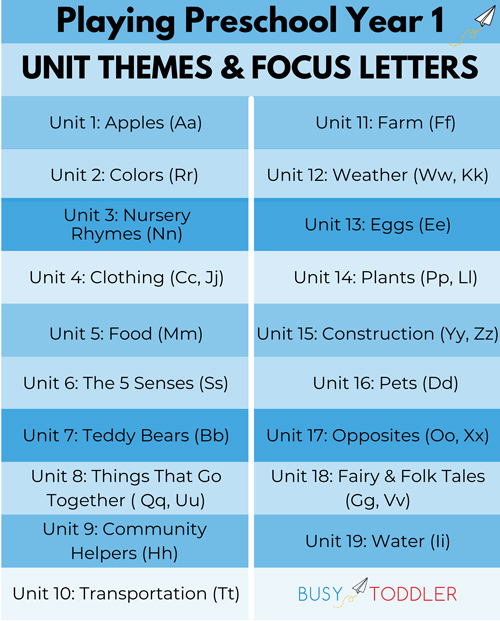 These themes bring so much value to your child's life. Think of all the background knowledge they are going to take with them after completing both years of this program. It makes me so happy just thinking about it.
This program is so much more than "academics"
My main goal with my kids is always to teach them how to "think." And that's what these programs do. Instead of sitting them at a worksheet to learn, our kids will be doing to learn, they'll be engaged, exploring, manipulating, and above all else THINKING.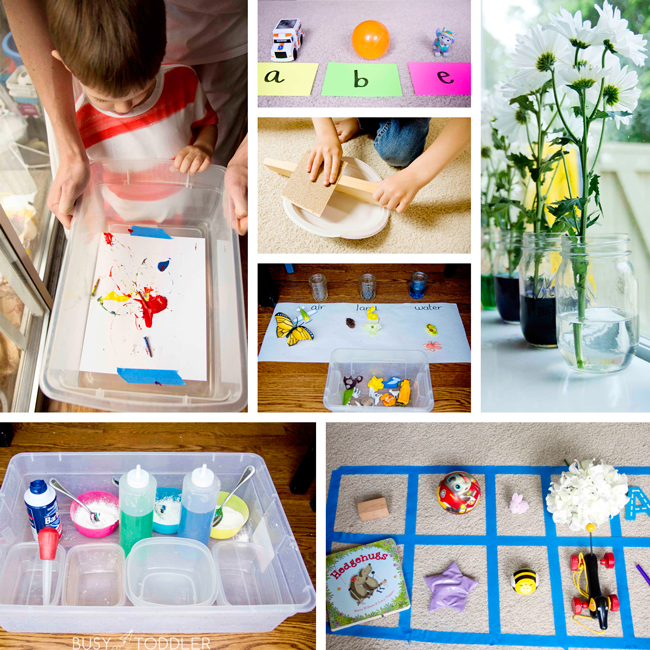 "But my child knows their alphabet and numbers already, is this program right for them?"
I hear you and that's great! Alphabet knowledge continues to grow through elementary school and number sense skills develop throughout their life (high school algebra is still using number sense!).
What we are working on in both Playing Preschool Years 1 & 2 is moving beyond memorizing.
We want them to understand letters as a building block and tool for reading, to see letters in the world around them and to form a base for when they are ready to read. We want our kids to really know their letters. There is a large emphasis in both years on building Phonemic Awareness, which is a critical skill that has a direct impact on a child's future reading success.
There's so much more to numbers than counting! It's understanding value, joining numbers together, comparing numbers, and recognizing numbers in various arrangements. We dig deep with numbers in Playing Preschool. Throughout the program, children will use numbers, create with them, explore their purpose, and expand their understanding of how numbers interact in our world. THIS IS MORE THAN HOW HIGH THEY CAN COUNT.
ALWAYS REMEMBER: repetition and practice are a good thing. LeBron James still goes to practice each day and takes simple shots. Another way to think about learning? When kids learn to ride a two-wheeled bike, we don't put the bike away and say," Good job mastering that skill, now let's learn something else." Can you even imagine? That's what learning is like in these early years. We must keep practicing!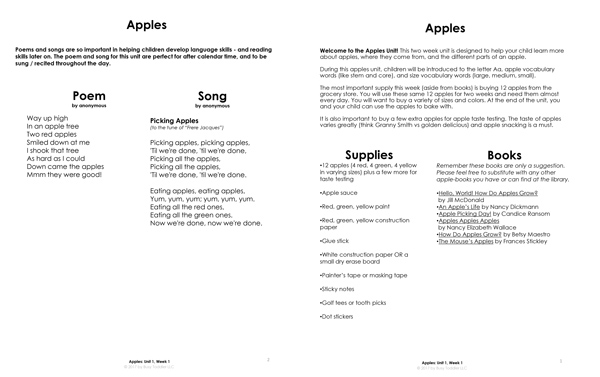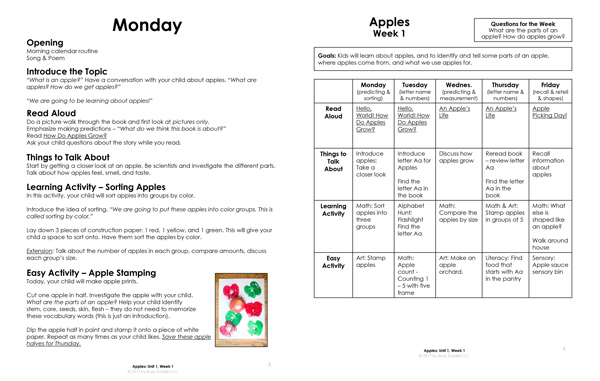 How is each day structured?
A week is 5 days of learning activities in both years of the program. Here's what each day looks like:
Start the day: calendar, song/poem, and an introduction to the topic
A read aloud hand picked to fit the theme – I've made book suggestions for you to find at home or the library
"Things to Talk About": a conversation to have with your child about the book/theme and a reading comprehension skill
A learning activity – an activity usually done by parent AND child to develop a targeted skill and fits with the unit theme
An easy activity – a quick & easy themed activity that the child can typically do independently
How will you know what to teach?
I remember being a teacher, opening up a new program, and being stunned by all I had to learn. How was I ever going to teach this effectively?
So I made you a Start-Up Guide in Year 1 that acts as your "how-to teach" manual. You'll "hear" me explain the ins and outs of teaching this program, tips for educating your child, and information on why I set up this program the way I did. In just a few days of teaching, you'll be a pro. Think how confident you'll be at the start of Year 2?!
For Year 2, I made an Introduction to Learning Guide where I talk to you about the keys to teaching, my views on background knowledge, and what I believe are the most important components to school readiness. Spoiler alert: none of them are academic!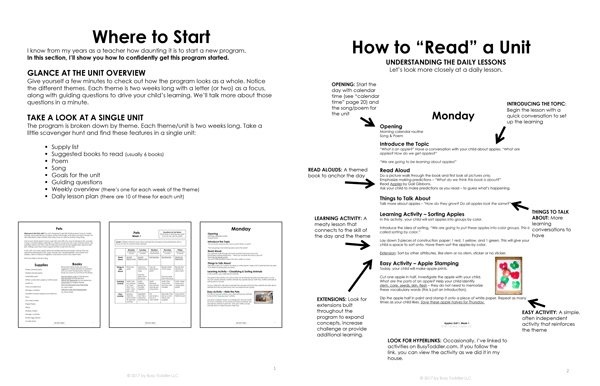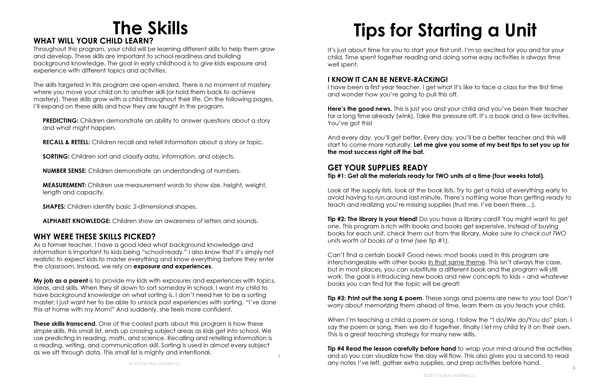 Need to see more about the program?
Check out my FAQ on the Playing Preschool.
I'm a visual learner so I made a "sneak peek" post where you can read through and see the layout of Year 1, Unit 1: Apples. This will give you a great idea of how the program feels.
There's also a GIANT blog post with even more information that you should definitely check out (click here! click here!). Or, just email me: [email protected]. I'm always happy to answer any questions you have.
I cannot wait for you to start this learning journey with your child!